Vinohrady, Prague 2
The stylish residential district of Vinohrady lies on the hilly terrain east of the historic center of Prague. The name comes from the vineyards that existed here between the Middle Ages and the 19th century. Starting in the late 19th century, the vineyards were replaced by elegant homes.
Typical for Vinohrady are homes with decorative facades in neo-Renaissance, Art Nouveau and neo-Baroque style, and tree-lined streets, parks and a lively social tourism trade. The district is known for a row of original cafés, stylish shops, bars and fine restaurants.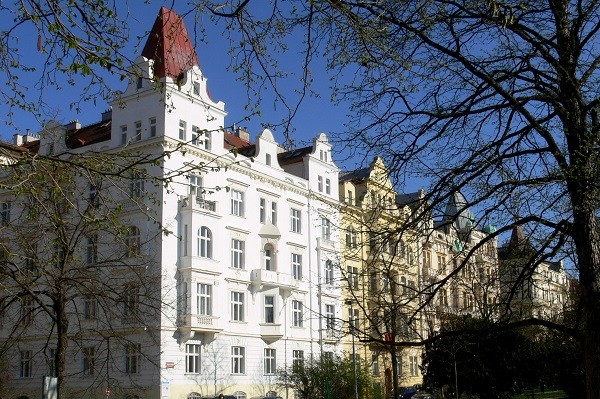 Vinohrady
Today Vinohrady is part of Prague 2, Prague 3 and Prague 10. It is surrounded in the north by Rieger Gardens and in the south by Havlíček Gardens and Folimanka Park. In the west, Vinohrady borders the historic center. The thoroughfares running from the east towards the historic center are Vinohradská, Korunní and Francouzská/Ruská. The center of Vinohrady is náměstí Míru (Peace Square) and the Square of Jiřího z Poděbrad.
Accommodation in Vinohrady is the ideal choice for getting to know another side of Prague. Cosy small hotels and excellent transport links make this district a perfect starting point for exploring Prague. Have a look at the short video "The Honest Guide" to Vinohrady.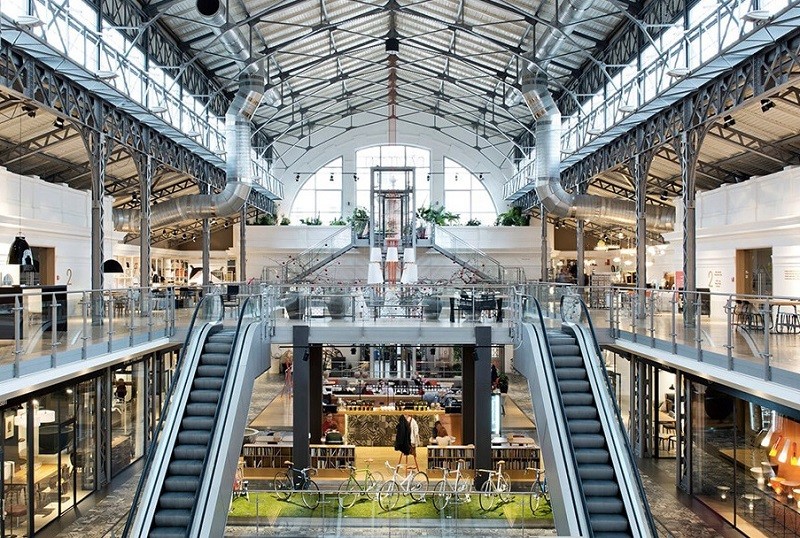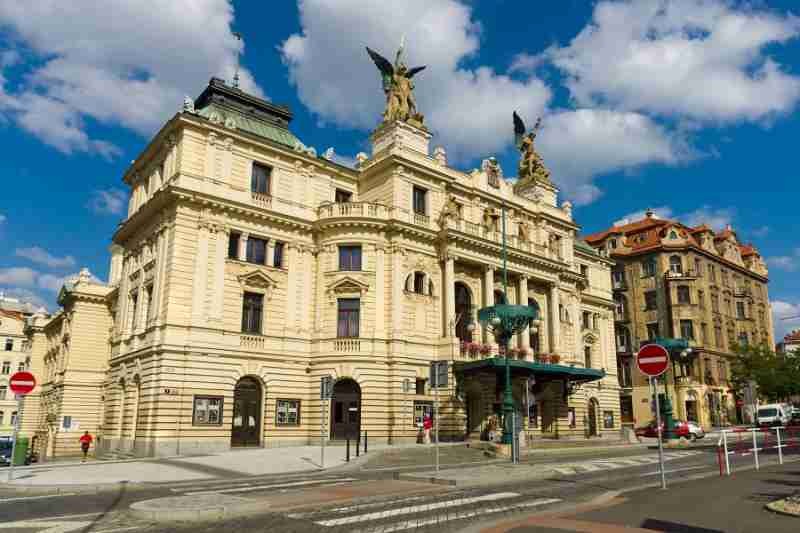 Vinohrady Theater
Getting around
Vinohrady is located in the greater center of Prague and has excellent links (subway, tram) to its historic core. The subway stations Želivského, Flóra, nám. Jiřího z Poděbrad, nám. Míru and Muzeum on line A all run through Vinohrady. The main boulevards in Vinohrady are serviced by trams. The subway station I. P. Pavlova on line C bordering Vinohrady and Nové město (New Town) is a major transport hub.
Tram 22 will take you directly from Vinohrady to Prague Castle. The Central Train Station is just two subway stations away. Getting to the airport by subway and bus takes about 40 minutes.
Peace Square (Namesti Miru)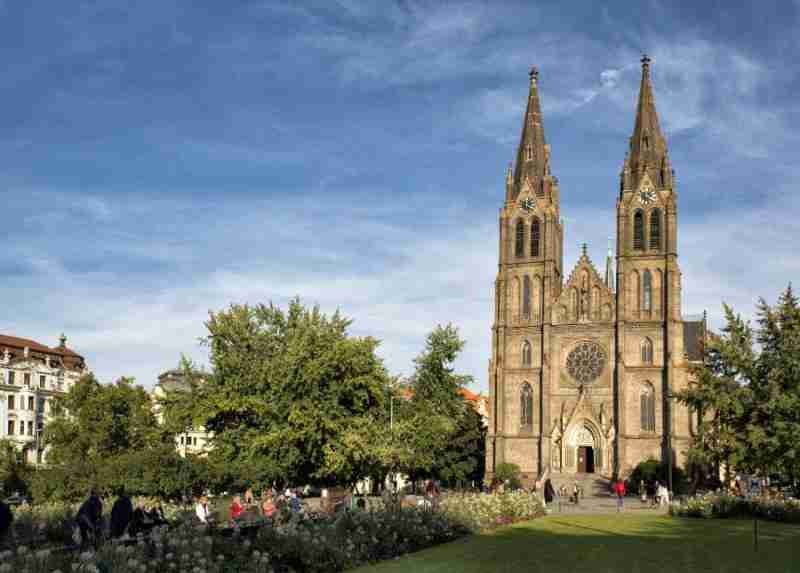 Peace Square
This large square with majestic palaces and palatial homes showcases the architecture of the late 19th and early 20th centuries. The neo-Gothic Church of St. Ludmila is the dominant feature of Peace Square. The neo-Renaissance National House stands in its shadow, and another architectural jewel is Vinohrady Theater, built in the Art Nouveau style. The area in front of St. Ludmila is occupied by a park, forming a peaceful oasis in an otherwise busy area. The park is the venue for the Christmas market, Signal Festival and other cultural events.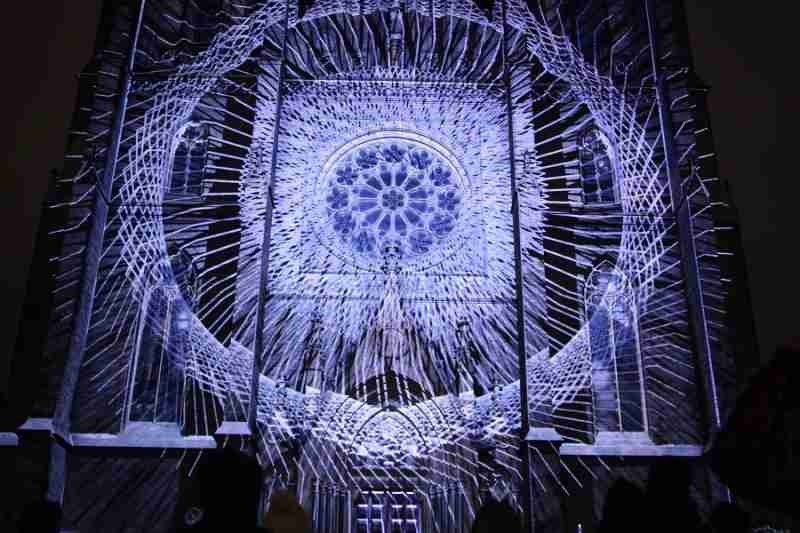 Signal festival, Church of St. Ludmila, Peace Square, Prague Vinohrady
You can get to Peace Square with subway line A to the station Náměstí Míru or by any number of trams (22, 16, 10, 4, 13, 23).
Square of Jiřího z Poděbrad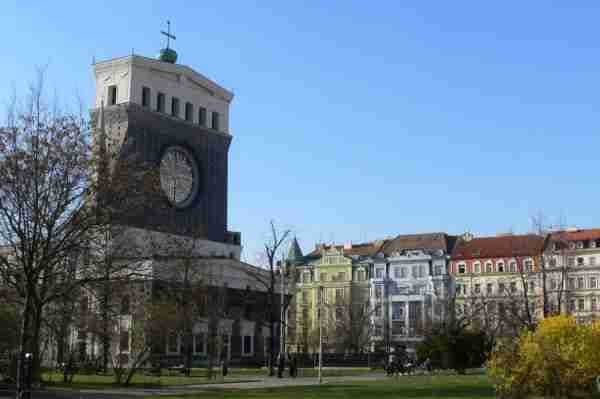 Square of Jiřího z Poděbrad, Prague
This square consists of a park lined by mansions from the early 20th century. The Church of Sacred Heart built by architect Josip Plečnik in the 1930s is the dominant feature.
Popular farmers' markets are held in the park from spring until autumn. You can buy fresh local foods and products, sample traditional and innovative dishes and drinks. The pleasant atmosphere and a wide selection of delicacies make a visit to the farmers' market a nice social event.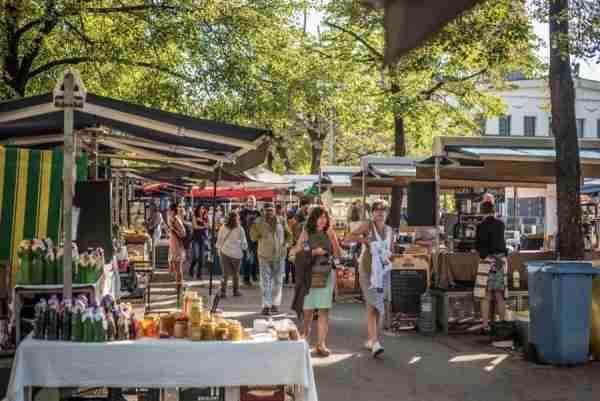 Farmers' markets on Square of Jiřího z Poděbrad
You can get to the Square of Jiřího z Poděbrad with subway line A to the station Náměstí Jiřího z Poděbrad or by tram 11.
Vinohrady parks
Rieger Gardens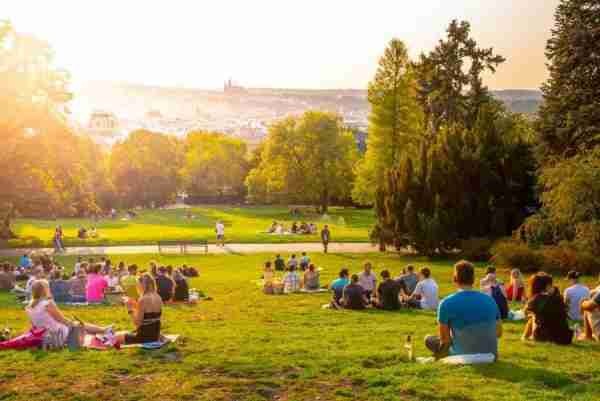 Rieger Gardens
This is a popular park with large beer garden, café, Sokol sports field and playground. The park is situated on a hill and offers magnificent views of Malá Strana and Prague Castle, especially at sunset. The park is named after Czech lawyer and politician F.L. Rieger, whose bronze statue by Myslbek can be seen in the southwest part of the park.
Havlíček Gardens (Grébovka)
This neo-Romance park from the late 19th century was originally the garden for Gröbe Villa. The sloping park is full of winding paths and ancient trees. In the park you will find a fountain with waterfall, pond, pavilion with café, a neo-Renaissance palace (Gröbe Villa), and a wooden gazebo with a vineyard and artificial cave (grotto). The vineyards include a wine cellar where you can taste the local wine.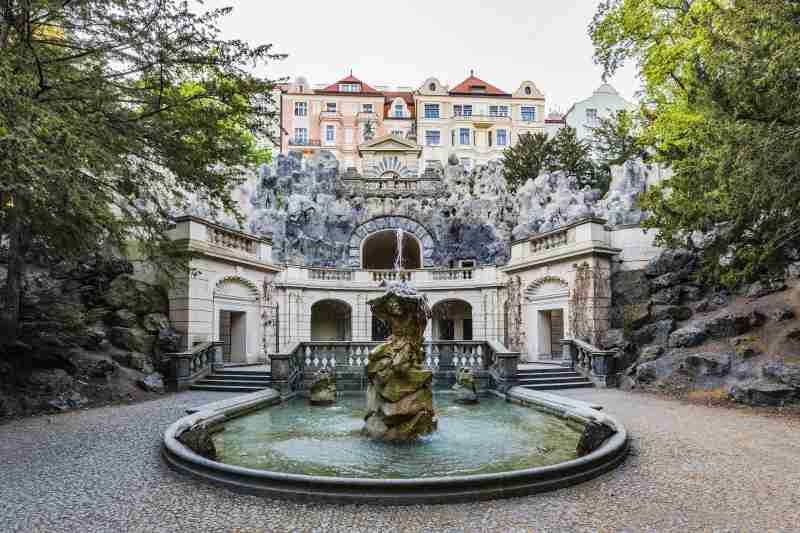 Grotta, Grébovka
Vinohrady cafés
During the last five years Vinohrady has become a mecca in Prague for coffee lovers. You can choose from several roasters and cafés with good coffee in and around Peace Square.